To activate Stellar Phoenix Software, follow the steps below:
Download and install your desired Stellar Phoenix program.
Run it from the installed location, which is generally C:/ drive or home screen of your system.
Click on the about (i) icon located at the top right corner, right next to settings icon.About Stellar Phoenix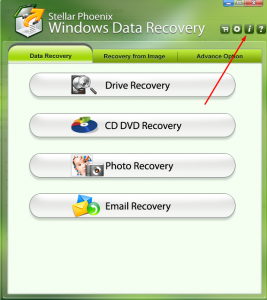 Click on the register buttonregister-stellar-phoenix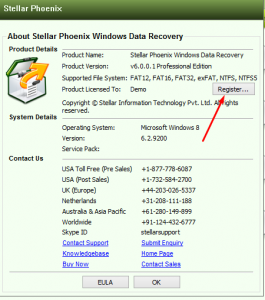 A dialog box will appear and you'll need to click on radio button stating 'I have the registration key' and click on 'OK'.register-Stellar-Phoenix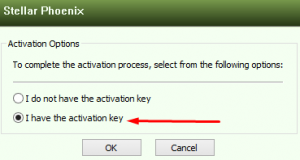 Provide the received credentials i.e. 'Username' and 'Activation Code' (you should have received the both in your Mail ID). In the case of Mac software, 'Username' not required to activate the program.username-license-code-stellar-phoenix
Click on 'OK' button to activate the software.
Confirmation dialog box will appears stating that the software is activated successfully.
Stellar Phoenix Data Recovery introduction video: